5 Easy Ways You Can Do Hour of Code™ This Week!
If you have been around K12 education during the last few years, you have probably heard of Hour of Code

™, an initiative launched by Code.org and Computer Science Education Week to introduce students to computer science. This is the 4th year of Hour of Code

™

and I am thrilled to say we are on our 3rd year at my school. I started organizing while finishing my Masters work at University of Delaware as I realized the importance of exposing students in K12 education to computer science. This year, I am coordinating our activities for PreK-12 and am excited to share with you some of the ways you can run an Hour of Code

™

this week at your school no matter what devices you have available!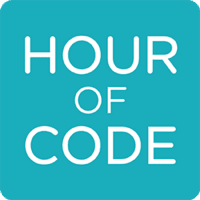 1. Student Choice
At www.hourofcode.com you have access to an incredible amount of games. Provide this link on your LMS or write in on your board and allow students to choose the activity that interests them.

My students love the Star Wars, Frozen and Minecraft activities best if you are looking for somewhere to start.

The activities are designed to run on a wide variety of platforms including PC, Mac, iPad, Android, and Chromebook. No matter your device, there are activities that will work for you!
I have used several different robots in my classes, but I always come back to Sphero. As an iPad school, it is so easy for the students to connect and be creative. They love the color changing and navigating options.

Sphero is so supportive of educators; from discounts on purchases to lesson planning materials, they are one of my favorite ed tech companies!

Check out their activities here: https://edu.sphero.com/cwists/category. You'll notice several are marked for

Hour of Code

™.

You can also check out the Sphero Arcade in Swift Playgrounds (see link below).
Like I mentioned, I teach at a 1:1 iPad high school. We are connected to a lower school that uses iPad minis. Here are some great apps that just require a download and you are ready to go!

LightBot Hour is a great option for PreK-Grade 5. It is easy to use and really fun! (Bonus- it is also available to run in a browser and on an Android device!)
Kodable is another fun resource for our younger learners. It is both an app and a web based tool. Additionally, there are tons of different lesson plans available on their website- some even unplugged!
Swift Playgrounds is my favorite programming app for middle and high school students. I even found it captivating as an adult. This year there is a special Hour of Code playground that you can download and work through.
For our students who want to go beyond block based programming or who want to experience something at their own pace, direct them to Code School. The paths and courses available allow students to move at their own speed while mastering a new language.
Let's not forget Scratch. This is probably one of the most diverse tools for new programmers. I love sharing it with my students at most grade levels. This year, there is a Scratch activity where they can build their own Google logo thanks to Google's CSFirst (another great resource)! How cool is that?!
Supporting our female students in CS is a cause near and dear to my heart. Made With Code provide opportunities, support, and activities to introduce CS to our female students.
We don't always have access to computers. Sometimes concepts need to be taught without being plugged in. This is where CS Unplugged comes in. These are lessons to teach CS concepts without using a device. The Binary Card and Harold the Robot activities are two of my favorites!

Kodable (see link above) also has lots of unplugged activities to use with your younger students.
Good luck! I know as educators you do not hear it enough, so thank you. Thank you for going the extra mile and providing students with life changing opportunities like Hour of Code

™

. As a high school teacher I am especially grateful for what all you elementary and middle school teachers do to spark a love of learning and prepare them for success at the secondary level.